By: HSF | August 15 2013 | 10 Comments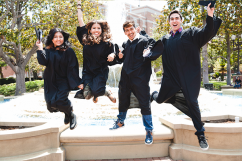 The backpacks are packed, and class lists set, as the new school year gets underway. With the new school year, comes a great, new look for the Hispanic Scholarship Fund. Take a tour! Our 2.0 website is chock-full of resources for students and parents, alike. With HSF.net 2.0, our community of over 60,000+ Alumni, and thousands more Scholars, now have a place to share, volunteer, and donate, easier than ever.
Finding events to attend, ways to give back through mentoring, or participating in one of our many programs are just the beginning of all that we have to offer. Our blog will provide you with the most up-to-date content on how to make your way to, and through, college. We are socially networked and connected in more places than just our HSF.net home page, so please take some time to browse, connect, get informed, ask questions, stay in touch, and give support to others.
Providing our community with every possible resource was top of mind when we built this site. And to help you find those resources more easily, we created HSFinder, a new feature on our site, that not only allows you to see all of our resources, but also has a rating system that helps you to find what you need, when you need it.
Telling our Scholars' stories, and connecting Scholars and Alumni, were also top priorities, as you will see. We also made it easier for parents and family members to help their college-bound student prepare and apply for a scholarship.
In short, welcome to HSF 2.0! We hope you'll return again and again.